"Jascha Heifetz Though My Eyes" (English and Chinese) offers a personal glimpse into the violin class of the Master and it's resulting impact upon the author ... for life.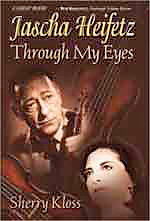 The violin master class of Jascha Heifetz was a fascinating mix of nationalities, personalities, and temperaments. Mr. Heifetz, the artist, the teacher, and the man, shared with his students a tradition which he was largely responsible for creating. For eleven years, I was privileged to be among the elite few who were welcomed into his inner circle, and discovered what the outside world longed to know about him.
Purchase from Online Store
Purchase from Amazon.com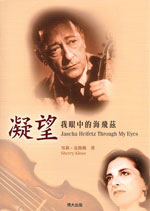 "Jascha Heifetz Through My Eyes" has been translated into Traditional Chinese and can be ordered from the following sources.
Purchase from Online Store
Purchase from Broad Press Inc.

---
Reviews of "Jascha Heifetz Through My Eyes"
Sherry Kloss honors her teacher, sharing the reality of the great master. She experienced the "whole man/musician" who mentored her, and shares it joyously with those of us who live vicariously through the pages with her. This is a fine work for aspiring musicians and those of us who have aspired!
– Carol, Tampa, FL
I highly recommend "Jascha Heifetz Through My Eyes," a book written by Sherry Kloss. Ms. Kloss was so fortunate to have had such a close relationship with Mr. Heifetz, and it is described so touchingly in this book. All lovers of music – and especially of the violin – will find this book a joy to read. Once I started, I couldn't put it down.
In addition, I enjoyed Sherry Kloss' renditions of Heifetz' transcriptions, which she provides on her two compact discs: "Lost and Found Treasures of the Heifetz Legacy" and "Forgotten Gems from the Heifetz Legacy." The book and the two compact discs should be in the library of every violin enthusiast.
– Carl B. Salzinger, Mayfield Heights, OH
I have read several biographies of Jascha Heifetz, and this is the only one that made me wish that I had met him. Sherry Kloss was able to see beyond the personal idiosyncracies of this consummate violinist to the essential good that was within him. The book is also interesting for the insights it gives the reader into what it was like to be in Heifetz's violin class in the mid 1970's. Unlike some other books and articles, I've read about Heifetz, this one did not leave me feeling depressed. It should be on the reading list of anyone interested in the life of Jascha Heifetz or in the study of the violin. – Unknown
Sherry's book brings a personal, human view to Jascha Heifetz. She gives us an insight to a kindness and compassionate side that few may have known. Not only is the book extremely entertaining, but for the reader, we are allowed to have a look in on the master class teachings, the daily life at USC, and the parties held at the Heifetz home.
Sherry allows us to see the care her teacher had not only in his work, for which he gave everything, but the concern he had for the welfare of his students. He was a very generous person in all respects.
I laughed out loud at several passages. The imagry of the fun loving, full of life young violinst, meeting the formal, reserve of the great artist. You must read it, and enjoy it as much as I did!
The pictures are also an additional treat. You Must Read this Book!
– Jeanette Fontanella
Following reprints of Articles by Sherry Kloss
are available in PDF format for FREE download.
"Remembering Mr. Heifetz" by Sherry Kloss – Sherry Kloss shares some memories of her teacher and mentor. Originally appeared in The Strad, January 1995. Download PDF
"Me and My Teacher" by Sherry Kloss – Studying with Jascha Heifetz involved demanding technical exercises and a constant search for excellence. Originally appeared in The Strad, Jan. 2007. Download PDF

Do It with Dash! by Sherry Kloss – Dive in to a Jascha Heifetz transcription. Originally appeared in Strings, Aug/Sept 2003. Download PDF

Home Sweet "Home" by Sherry Kloss – When Jascha Heifetz met American songwriter Stephen Foster. Originally appeared in Strings, Jan. 2005. Download PDF